Welcome Home to Downtown Durango's
ONLY Riverfront Residences.
Welcome to 1111 Camino. We are happy that you have decided to take a closer look. This page is designed specifically to give interested parties just the highlights. Here you will find a quick tour of our project and some quotes from local experts and national media explaining why Durango is the last great real estate investment in the Rocky Mountain West.
A unique opportunity in Downtown Durango
1111 Camino is the only riverfront residential development in downtown Durango Colorado.
The project's unique location has given us the opportunity to build a thoroughly special property infused with the luxury amenities, convenience and lifestyle options that one would expect to find in some of Colorado's big name resorts. Yet we have them right here in the livable town of Durango Colorado.
Are you an 1111 Camino VIP*?
1111 Camino VIPs are our Very Intertested Parties. By registering as a VIP on this page you will always be Number 1 in the Know with:
Comprehensive information packages with pricing, availability and unit specifications
Invitation to our exclusive VIP Buyers' Gatherings
Sneek Peeks and other VIP only opportunities.
Downtown Durango - An Excellent Investment.
Our appraisers tell us that our values are coming in around 70% of those in Telluride or 60% of those in Breckenridge. Yet Durango has a finer climate and better services, health care, shopping and infrastructure than either of those towns. Yes we have great access to skiing at Purgatory, Telluride and Wolf Creek. But we also have 4 seasons of rafting, fishing, hunting and riding to go along with our snow sports.
Additionally, Durango features real industry, technology and finance firms with high paying jobs that you will not find in Telluride or Breckenridge.
A Strong Future - Downtown Condos
The 1111Camino project will be a significant part of Durango's coming of age. Just over decade ago you could count the gourmet restaurants in Durango one one hand. Today we boast 137 Restaurants and 32 bars and night clubs. The overwhelming majority of those are in the Heart of Durango's downtown which is also known for it's many art galleries, museums and performing arts venues.
This cultural emergence is attracting more sophisticated residents with the resources to demand a higher standard in their living spaces. The new Durangoans are demanding upgraded commercial kitchens, luxurious bath suites, magnificent views and, above all, convenient access to Durango's "walkable urban core".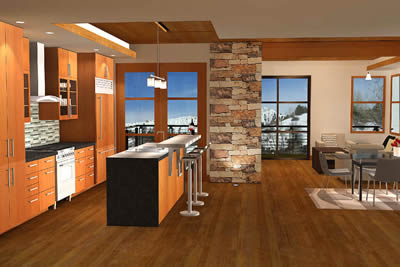 1111 Camino's Downtown Durango riverfront condos will satisfy these demands and more. They will also be an excellent investment for the future. By 2025 there will be more single family households than families with children. These older singles will be abandoning larger homes in search of the community feel of projects just like 1111 Camino.
Sales of large lot Mc Mansions have slowed to a crawl, and this trend will certainly continue into the future. The 5000 square foot 6 bedroom house 30 miles from town is yesterday's status symbol. Today's new, hot item is the urban luxury apartment walking distance to everything.
1111 Camino is the Natural Choice
Become a part of the excitement that this project is generating around Durango.
VIP Next Steps
VIP Buyer's events and open houses are scheduled beginning in March of 2008. Be sure to sign up to "be in the know" as these events and other project information is announced.

For immediate consideration, call our Sales Manager, Lisa Bourque at 970.259.7207.
Lisa can answer any questions you have about 1111 Camino. She will also be your personal assistant in the reservations and selections and custom outfitting process.